GOAL
To design an authors website for the launch of his first book to inform customers about the story as well as the writer, encouraging them to purchase the book and sign up for a newsletter.
PROCESS
Kick-off calls with the client to understand his goal, discussions on how to structure the site and sections we would need down the line. Discussed functionalities as well as the desired aesthetic of the website. Design mood board based on these discussions and suggested WordPress plugins for fulfilling the functionality requirements. Created wireframes and mockups in Figma and developed the site in WordPress.
MY ROLE
Managed the project and all client coordination. Lead the creative direction by designing the mood boards and sketching out wireframes. Overseeing the execution of the mockup designs and the WordPress development by my team. Refined and coordinated revisions based on feedback from the client
Mood Boards
Based on the aesthetics desired by the client and references shown by him, created mood boards which showcased the colors, typography, imagery, textures and patterns. Narrowed down the design direction based on the feedback.
Wireframes
Designed wireframes based on the information architecture discussed with the client. Showed various options and layouts for how the information will be displayed on the website. Merged the style tile with the wireframes to create mockups in Figma.
Style Tiles
On the basis of the selected mood board, created three style tiles outlining the specific color schemes, typefaces and UI elements to be used on the website.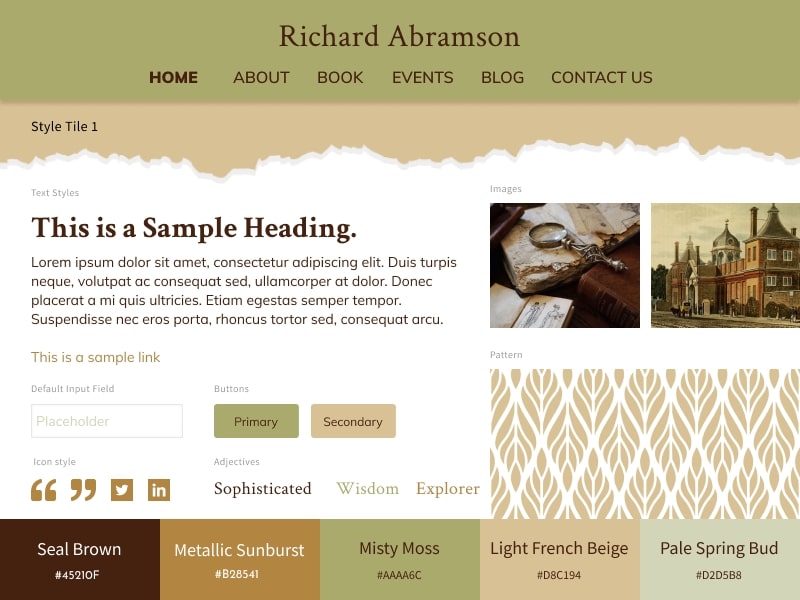 WordPress Development
Created the approved mockups in WordPress and installed and enabled required plugins such as the contact form, events page, and newsletter sign up
SUMMARY
My team and I delivered a website design following a clear process that was outlined to the client. Involved the client at each step to make sure that the project was executed with a collaborative spirit. Onboarded the client on how to use the WordPress CMS to add new blog posts, and reviews and share content on social media platforms.